Developing an affinity for great tasting German food begins with learning how to choose the ingredients that are part of traditional German recipes. There are comfort food recipes that will help you make a German dinner to remember.

Einz Zwei Drei
When you are in a hurry at lunchtime and hanker for a German sandwich (belegte Brote), keep a few of these ingredients handy.
. Bratwurst, knackwurst or leberwurst
. Sauerkraut
. German mustard
. Thinly sliced onion
. German rye or sourdough rye bread
Directions:
• Slice bread about 3/4 inches thick. (You can use one slice or two, as preferred.)
• Cover the bread with about a teaspoon of German mustard and a half teaspoon of horseradish.
• Place sliced wurst to desired thickness atop one of the bread slices for an open faced sandwich and top with a dollop of sauerkraut.
• Place the second slice on top and garnish with a slice of pickle and enjoy.
Spaetzle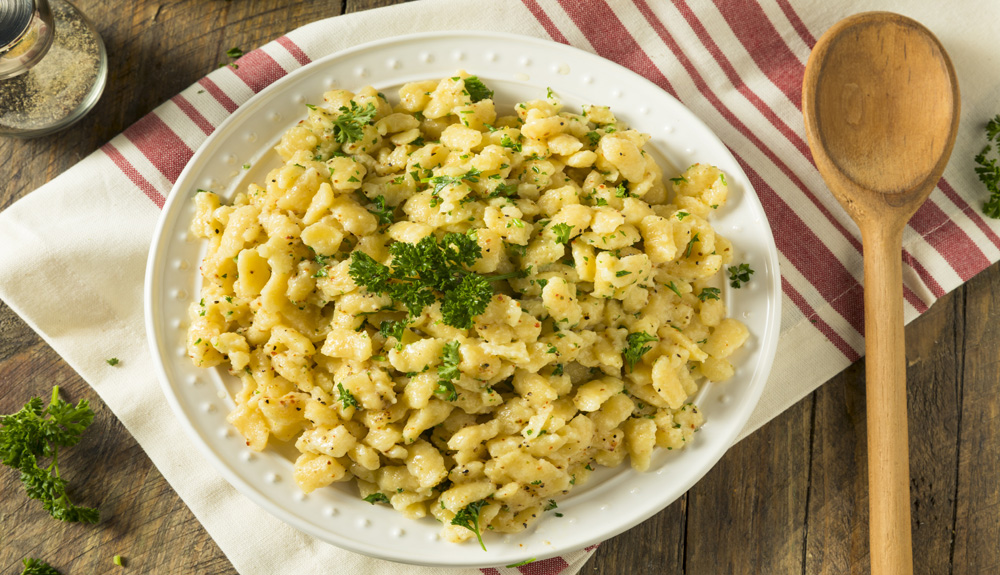 It is relatively easy to learn how to make "spaetzle," those little tasty dumplings that go so well with Rouladen, a beef roll stuffed with vegetables. To make enough spaetzle for four servings, you'll need the following ingredients:
2 eggs
1 cup of all purpose flour
2 tablespoons of finely chopped parsley
1/2 teaspoon salt
1/2 teaspoon white pepper
1/2 teaspoon nutmeg
1/4 cup of milk
Directions:
• Whisk together all of the dry ingredients in a medium bowl.
• In a smaller bowl, beat eggs and milk.
• Slowly add the wet ingredients to the dry ingredients until a soft, sticky batter forms.
• Prepare a large pot of boiling water of at least 4 quarts.
• You will need a utensil with holes such as a slotted spoon, metal grater or a spaetzle maker to press the batter into the boiling water.
• When spaetzle floats to the top (about 5 to 8 minutes), you can remove them from the heat and strain with a colander.
• To serve spaetzle, place 2 tablespoons of butter in a sauté pan, add a half clove of crushed garlic and spaetzle.
• Toss so spaetzle is well coated.
• Remove the garlic clove and serve with Rouladen or Weiner Schnitzel.
Ref:
Recipes for Rouladen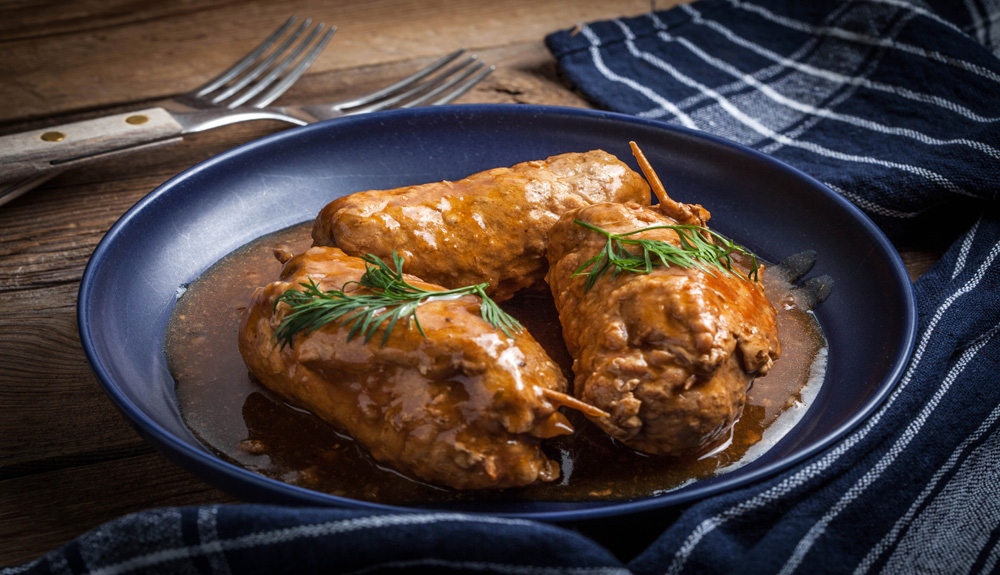 Ingredients
1 2 1/2 to 3 lb. flank steak pounded to about 1/8″
1/2 cup red cabbage
1/2 cup chopped onion
1/2 cup sauerkraut
1/4 cup chopped parsley
1/2 cup gherkins finely chopped
1/4 teaspoon juniper berries coarsely crushed
1 clove garlic minced
1/2 cup pickled beets minced
1 hardboiled egg chopped
1/3 cup red wine vinegar
1/4 cup crushed ginger snaps
Directions
• In a large skillet, add 1 tablespoon butter and brown flank steak on both sides for 1-2 minutes.
• Remove to a large platter, top side down.
• In a medium bowl, mix remaining ingredients until well blended.
• This becomes rouladen stuffing mixture.
• Spread stuffing mixture evenly in thinly pounded flank steak.
• Roll the meat and stuffing from the narrow side lengthwise to form a roll.
• Tie to secure with poultry string.
• Bake at 350 about 30 minutes or until the stuffing is tender.
• Serve warm or at room temperature with spaetzel.
Weiner Schnitzel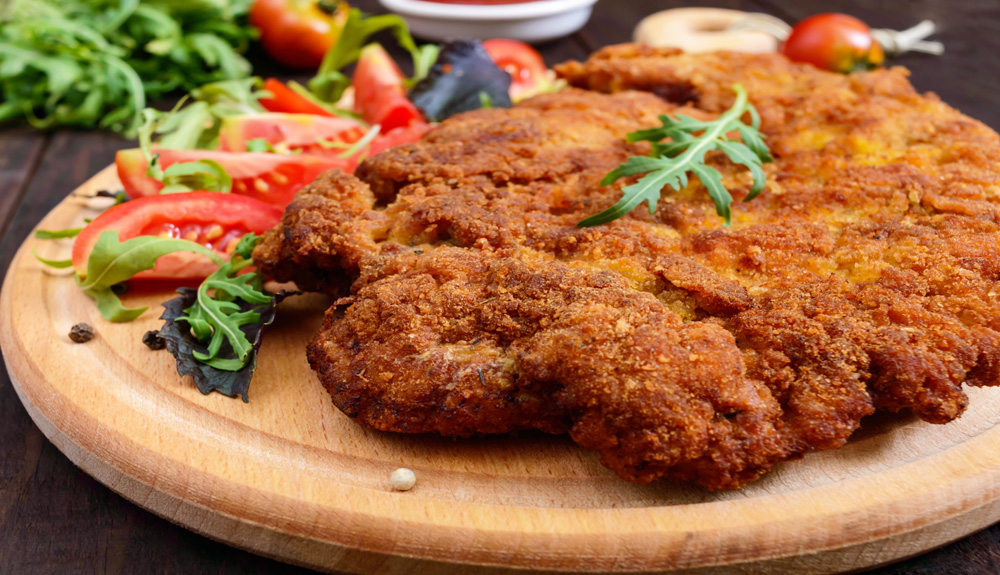 Weiner Schnitzel is easy to make and takes less than an hour from preparation to serving. For four servings, you'll need about two pounds of veal cutlets.
Ingredients
2 lbs. veal cutlets
2 cups plain, dry bread crumbs
2 cups flour
2 eggs well beaten
2 tablespoons milk
Salt and pepper to taste
Dash of nutmeg
1/4 cup finely chopped parsley
6 tablespoons of butter and 1 teaspoon olive or canola oil
3 tablespoons grated cheese like Romano or parmesan
Directions
• Place flour, bread crumbs and eggs in separate bowls.
• To the bread crumbs, add grated cheese. Add salt, pepper, nutmeg and parsley to milk and beaten egg mixture.
• Pound cutlets slightly on both sides so they are an even size.
• Dredge each cutlet in flour, then in milk/egg and finally in bread crumbs/grated cheese.
• Place butter and oil in a large skillet and heat till butter turns frothy.
• Add cutlets and brown on each side.
• Remove to a platter or baking dish.
• Garnish with lemon slices or prepare a mushroom sauce.
• For the mushroom sauce, you will need:
1 cup heavy cream
1/4 cup sour cream
1 tablespoon of flour
2 tablespoons of butter
A dash of white wine
3/4 cups of thinly sliced raw mushrooms.
• Place all ingredients in a medium saucepan except the mushrooms.
• Whisk until the sauce thickens.
• Add thinly sliced, raw mushrooms and cook until mushrooms give up their liquid. Serve with weiner schnitzel.
Apple Strudel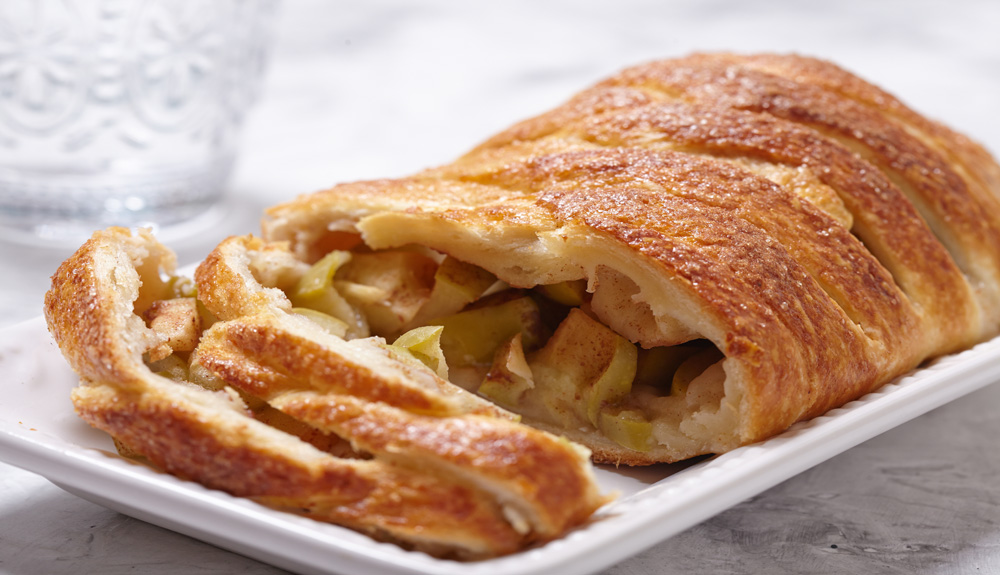 Germans love their desserts as a finish to their meal and it's simple to make
Ingredients
6 sheets of phyllo dough
1/2 cup melted butter
1 12 oz. can of apple pie filling
Directions
• Brush melted butter on phyllo sheets and place on parchment in a rectangular 9 x 13 baking pan.
• Spread apple pie filling onto the phyllo sheets and roll up from the vertical side of the dough.
• Brush with remaining melted butter and, if preferred, sprinkle with cinnamon sugar.
• Bake until dough is golden brown.
Apple Kuchen the Fast and Easy Way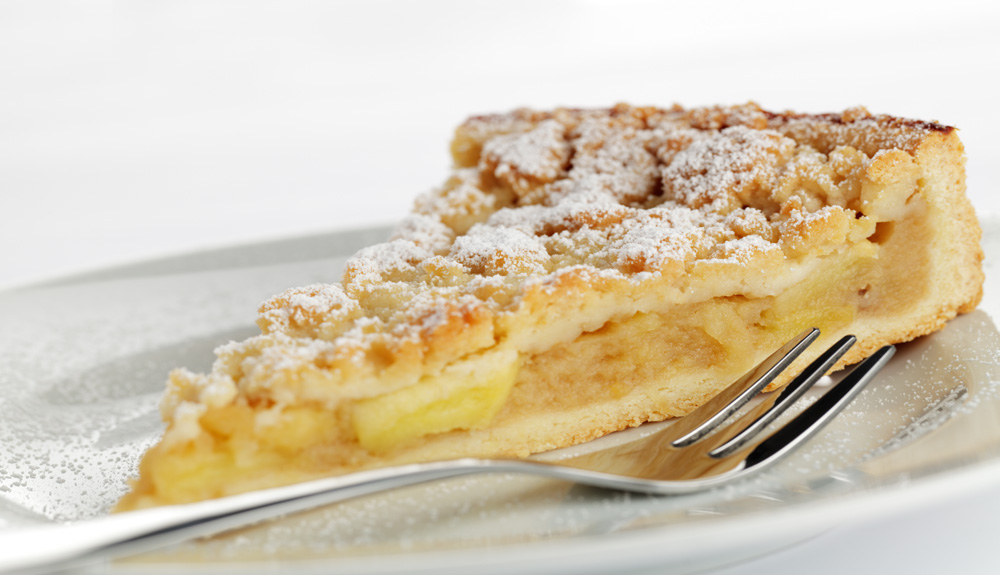 Making cakes from scratch can be hit or miss. For today's busy cooks who love German desserts, there's an easier, faster method.
Ingredients
1 box vanilla pudding cake mix
1 tsp. cinnamon
1/4 tsp. nutmeg
1 1/2 cups apples, cored, pared and thinly sliced
1/2 cup maraschino cherries chopped
1/2 cup nuts (walnuts, almonds or other) chopped
1/3 cup light brown sugar
Directions
• Preheat oven to 350 degrees.
• Butter a Bundt cake pan well.
• Prepare cake mix according to directions.
• Add cinnamon and nutmeg to cake batter.
• To the bottom of the cake pan, sprinkle brown sugar.
• Add chopped nuts and cherries.
• Place apple slices around in a decorative pattern.
• Pour cake batter over this and bake for 25 to 30 minutes or until the cake springs back to touch.
• Allow to cool before plating.
• Dust with powdered sugar before serving or serve with whipped cream or vanilla ice cream.