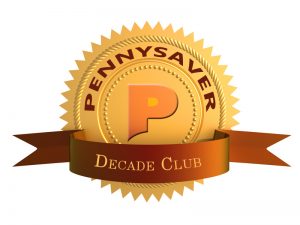 We have a growing list of customers that have advertised with us for more than 10 years.
Here's what a few of them have to say
Your Town Cesspool
It has been more than 40 years since we started advertising with All Island Media and it seemed like it was finally time to let everyone there know what a great job you all are doing.
We can always count on our weekly ad to produce some kind of increase in our usual business. Our sales rep is extremely helpful. We never have to worry about our ad missing a deadline and Bob always has good suggestions for changes that keep our ad timely.
We especially feel that we are getting the most for our advertising dollar because of All Island Media's direct mail program. We are guaranteed that the Pennysaver will reach every household in our advertising area.
You can always count on me to recommend All Island Media's advertising services. Forty successful years don't lie.
Keep up the good work!
John Ray
Flowers By Chazz
Nothing brings the crowds a-running like a full-page, color ad in your publication! Just thought you would like to know that after 26 years of weekly advertising I am still amazed at the response generated by the Pennysaver. The flood of coupons returned prove that your advertising is the best money can buy.
The Pennysaver's Art Department is always on the money with the ad. I know our advertising response is always a result of careful choreography between myself, my rep and the art department. It's a weekly dance I would recommend to anyone, anytime.
Finally, you can't beat All Island Media's direct mail program. You are guaranteed by the U.S. Postal Service that the ad will reach every Long Island household.
It doesn't get any better than that.
Charles Piazza
Houdek's Spirit Shoppe
Cheers to you for giving us 30 years of successful advertising! We have been in business for 41 years and more than half of those were spent in a partnership with the Pennysaver, and we couldn't be more satisfied.
Every week we can always count on our sales representative to make sure our ad produces the results we are looking for. We can tell it's working by the high coupon return we experience. It's a great way to track where our ad performs the best. And, it's an even better way to test market new areas that we many want to expand our advertising into.
On top of that, the Art Department always does their best to produce an organized and eye appealing ad in spite of the overwhelming amount of information we submit on a weekly basis. It is definitely a challenge and we appreciate their help.
You can be assured that we always have high recommendations for All Island Media's advertising services.
Keep up the good work!
Michael Houdek
Domino's
I am writing this testimonial to let you how thrilled I am with the results that I get when I advertise my many locations with your paper.
Whether I advertise inside the paper, or if I do flyers or anything other than inside pages, I get slammed with phone calls of people responding to the ad. The return on my advertising investment is a no brainer, and trust me when I tell you that I track the results very closely.
I have also advertised for help wanted, and again my phone rings off the hook!
I can always count on my sales representative to tell me the latest of what is going on, and to steer me in the right direction for what works best for my business.
It is a pleasure to do business with your company, and count me as one of your happiest customers.
Thank you, Thank you.
Christopher Puccio