If you don't have anything prepared for dinner and you need something quick, a rotisserie chicken is a great solution. This is easy to find already at most grocery stores and it's affordable and big enough to feed a family. There are many ways to turn these chickens into full meals.

Chicken Alfredo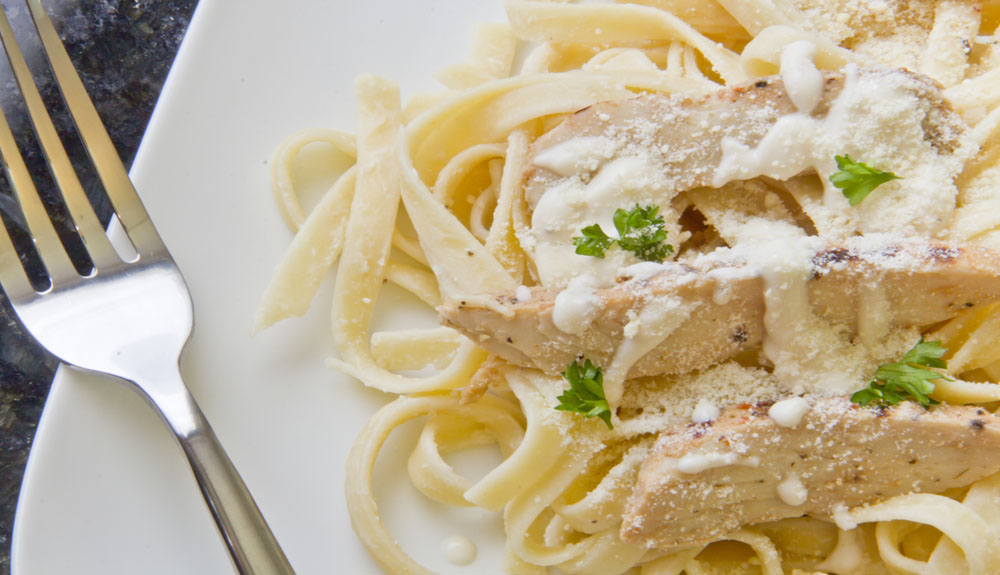 Ingredients:
Alfredo Sauce (jarred or homemade)
Fettuccine
Broccoli
Rotisserie Chicken
Directions
Prepare the fettuccine noodles as directed on the package.
Cut broccoli into florets and place in a steamer for 10-15 minutes, or until tender.
Take the chicken out of the package and pull the white meat off of the bone.
Cut the chicken into small cubes, then set aside in a bowl.
Pour the Alfredo sauce into a large pan over medium heat.
Drain the pasta water and then add the noodles to the sauce.
Simmer on low before adding the broccoli and chicken to finish.
Buffalo Chicken Pasta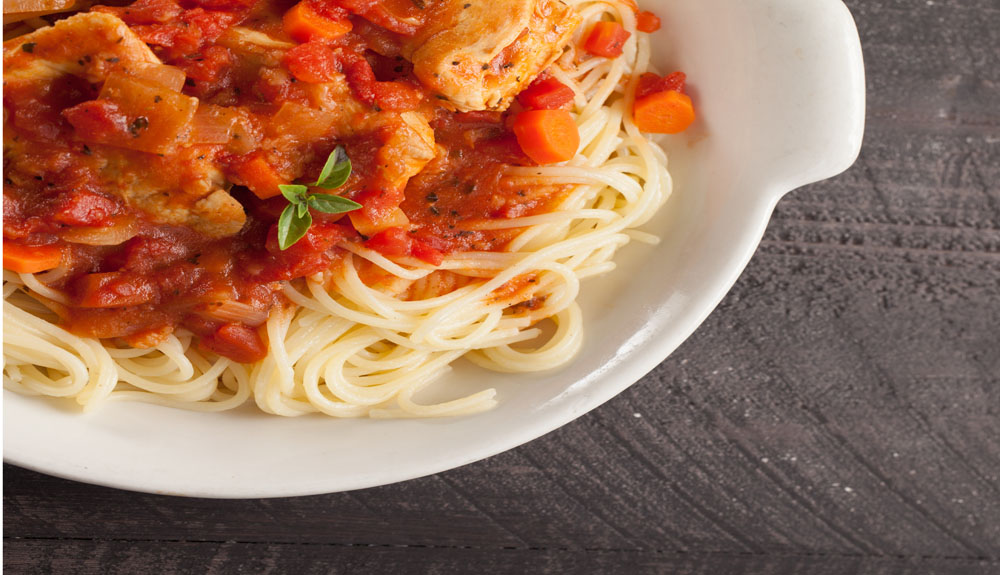 Ingredients:
2 cups Shredded Rotisserie Chicken
12 oz Penne (uncooked)
3/4 cup Ranch Dressing
1 tsp Garlic Salt
1 tsp Garlic Powder
1 tsp Pepper
1/2 cup Chicken Broth
1/3 cup Buffalo Sauce
8 oz Light Cream Cheese
Green Onions (sliced for garnish)
Directions
Heat the buffalo sauce, chicken broth, and cream cheese In a large skillet.
Gently whisk and add the garlic powder, garlic salt, pepper, and paprika.
Continue but stirring with a wooden spoon, then slowly pour in the ranch dressing.
Add in the shredded chicken and simmer for 10 minutes on low.
Prepare the penne pasta according to package directions.
Mix the pasta into the sauce skillet and serve with sliced green onions.
Tacos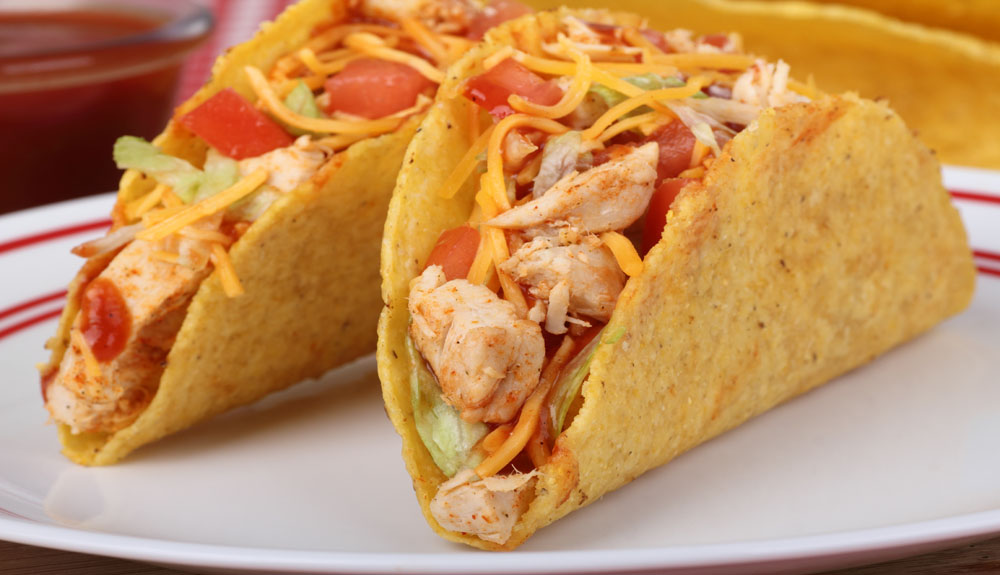 Ingredients:
Taco Shells
Soft Tortillas
Shredded Lettuce
Beans
Sour Cream
Cheese
Tomatoes
Avocado Shredded Rotisserie Chicken Taco Seasoning
Directions
Begin heating a skillet with prepared taco seasoning.
Once bubbling, add in the rotisserie chicken and simmer for 5 minutes.
Chop up the rest of the ingredients.
Assemble your tacos.
Lemon Pepper Pasta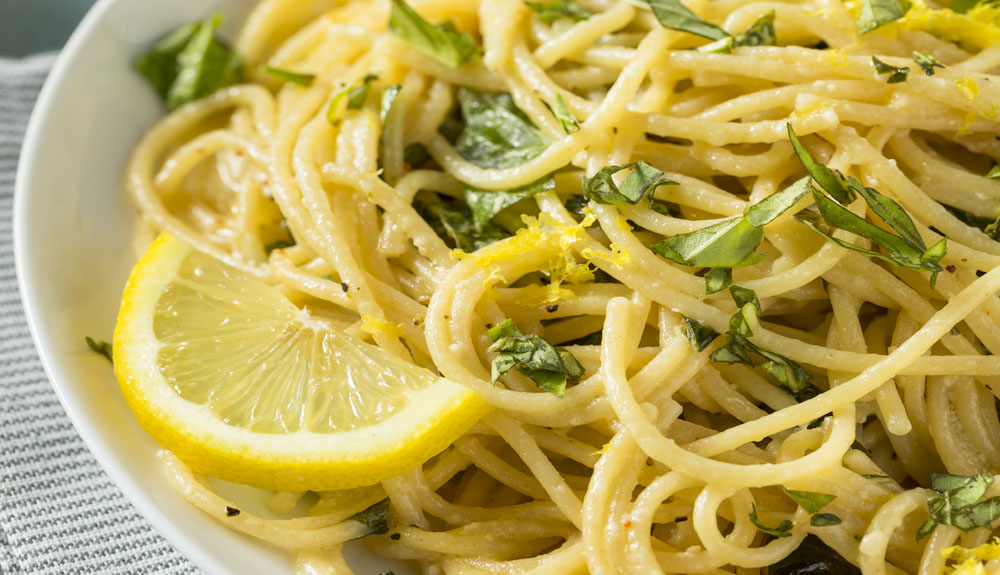 Ingredients:
Rotisserie Chicken (shredded or cubed)
1 tsp Lemon Pepper Seasoning
1 tsp Olive Oil
1 tablespoon Garlic (chopped)
32 oz Chicken Broth
8 oz Uncooked Spaghetti
1/4 cup Parmesan Cheese (shredded)
1 tsp Lemon Juice
Directions
Heat olive oil and then cook garlic until browned in a large skillet.
Stir in the chicken broth and heat until just boiling.
Add in the uncooked spaghetti, stir, and then simmer on medium for 15 minutes.
Stir in the cheese and lemon juice until well combined.
Serve with extra cheese, if desired.

Chicken Enchilada Casserole

Ingredients:
Rotisserie Chicken (shredded)
10 oz Sour Cream
28 oz Green Enchilada Sauce
4 cups Shredded Mexican blend cheese
9 Corn Tortillas, cut into strips
Directions:
Heat the oven to 375 and cover a baking dish with parchment paper.
Layer the casserole; begin by sprinkling a handful of chicken on the bottom of the pan.
Follow this with enchilada sauce, then sour cream, tortilla strips, and cheese.
Repeat this process until you have a layered casserole and no more ingredients left.
Cook in the oven for 30-40 minutes covered and 10 minutes uncovered.
Allow to cool 10 minutes before eating.
Noodle Soup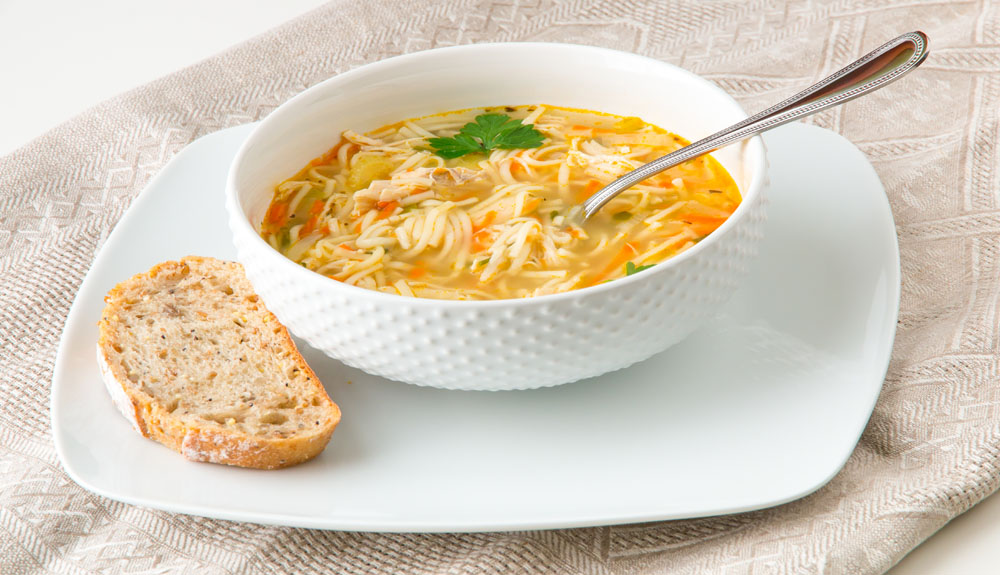 Ingredients:
8 cups Chicken Broth
1 tbsp Olive Oil
Rotisserie Chicken (cut into cubes)
3 Carrots (sliced)
3 Celery Stalks (sliced)
3 cups Uncooked Egg Noodles
Directions:
Heat the olive oil and then cook the carrots and celery stalks until they are soft in a large skillet. Heat the chicken broth in a large pot until boiling.
Add in the noodles, chicken, and cooked vegetables and continue to boil until noodles are soft.
Allow to cool before serving with a slice of French bread.
Chicken Teriyaki Stir Fry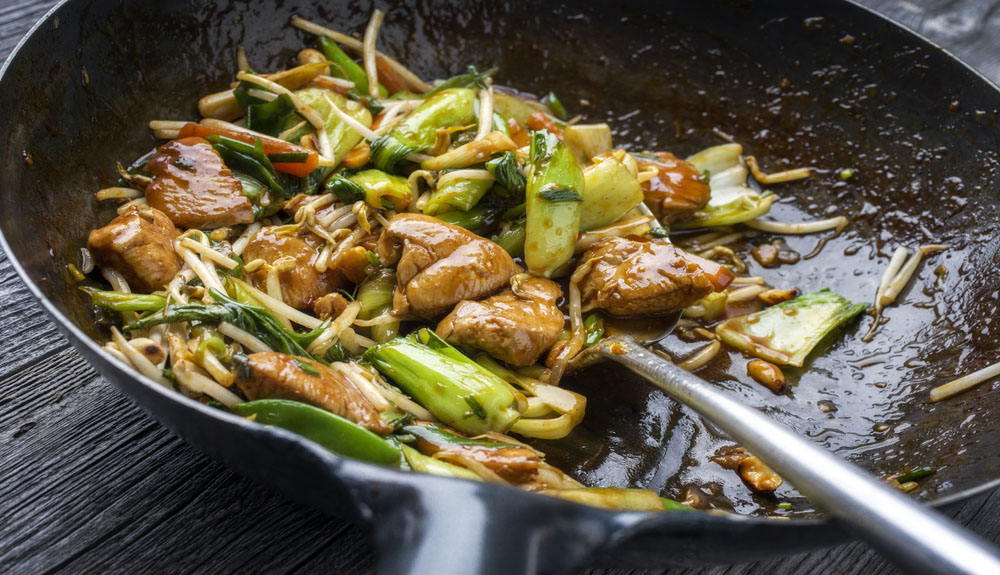 Ingredients:
Teriyaki Sauce (prepared)
Rotisserie Chicken (cubed)
2 cups Broccoli
1/2 cups carrots (chopped)
2 cups Instant Rice
1 tbsp Olive Oil
Directions:
Cook the instant rice according to package directions.
Heat the olive oil in a large skillet or wok and cook carrots and broccoli until they are tender. Turn the heat down to low, then stir in chicken and enough teriyaki sauce to cover the veggies and chicken.
Once rice is finished, remove teriyaki meal from heat and serve over rice.
Chicken Panini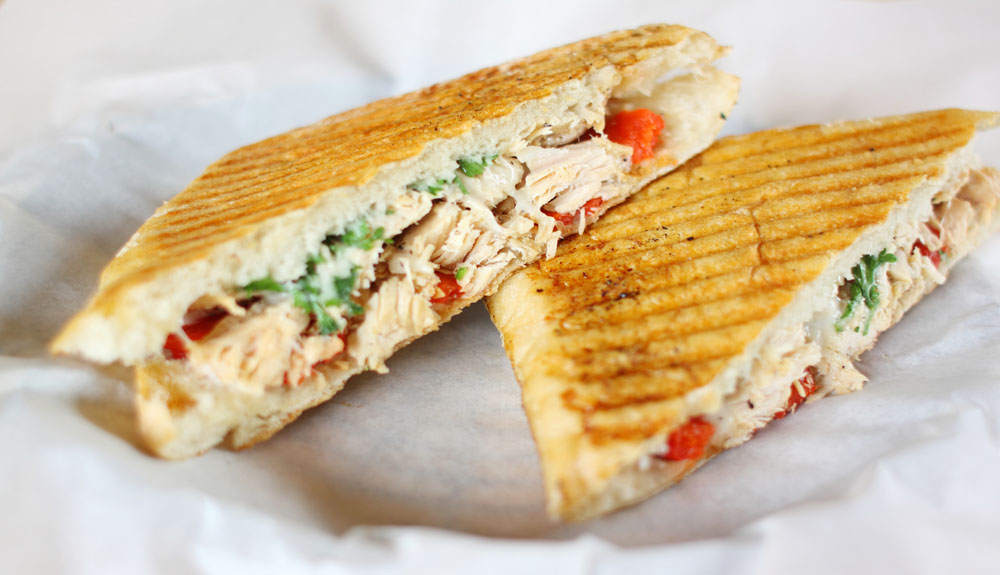 Ingredients:
Panini Bread (or sourdough)
Butter
Pesto Sauce
Fresh Mozzarella Cheese (thinly sliced)
Rotisserie Chicken (shredded)
Directions
Coat one side with butter and the other side with pesto sauce on each slice of panini bread.
On a hot skillet, place one piece of bread butter side down, then top with a slice of mozzarella and a few pieces of shredded chicken.
Top with another piece of mozzarella followed by another piece of bread, butter side up.
Flip after a few minutes and cook until both sides are golden brown and the cheese is melted.
Barbecue Chicken Pizza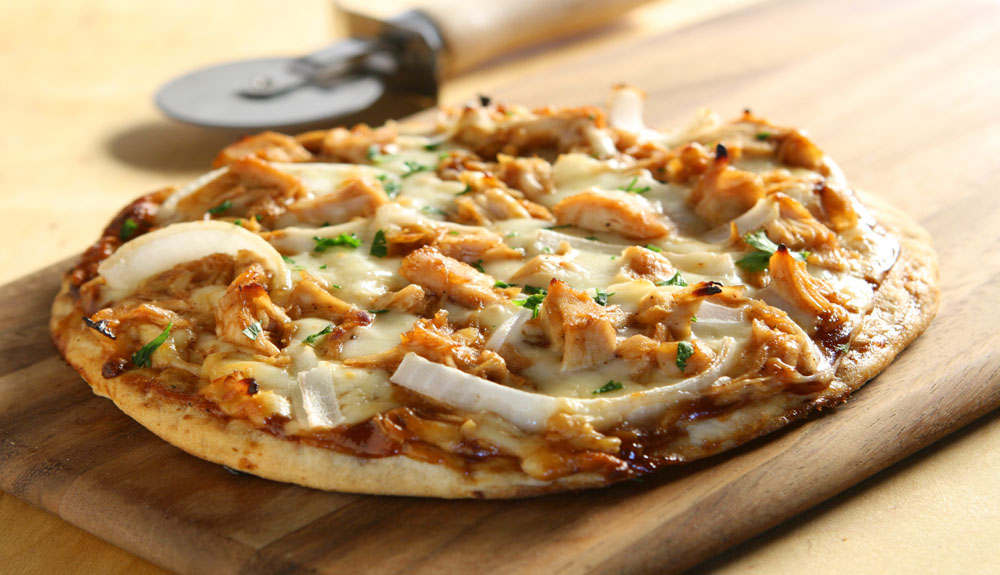 Ingredients:
2 Prepared Pizza Crusts
Barbecue Sauce
Mozzarella Cheese (shredded)
Rotisserie Chicken (shredded)
Red Onions (sliced)
Directions
Place the prepared crusts on greased cookie sheets and preheat the oven to 400 degrees.
After this, spread barbecue sauce on top of each crust until covered with a thin layer.
Sprinkle shredded chicken and onions on top of the sauce until it's covered and top with mozzarella cheese.
Bake in the oven for 15 minutes, or until golden brown.
Once cool, slice and serve with additional onions on top.