Summertime is synonymous with barbecue and what's better than an old fashioned barbecue with friends and family? However, if you happen to grill too much food, don't toss; transform your BBQ leftovers into delicious meals with the recipes below.

1. Sweet Potato Quesadillas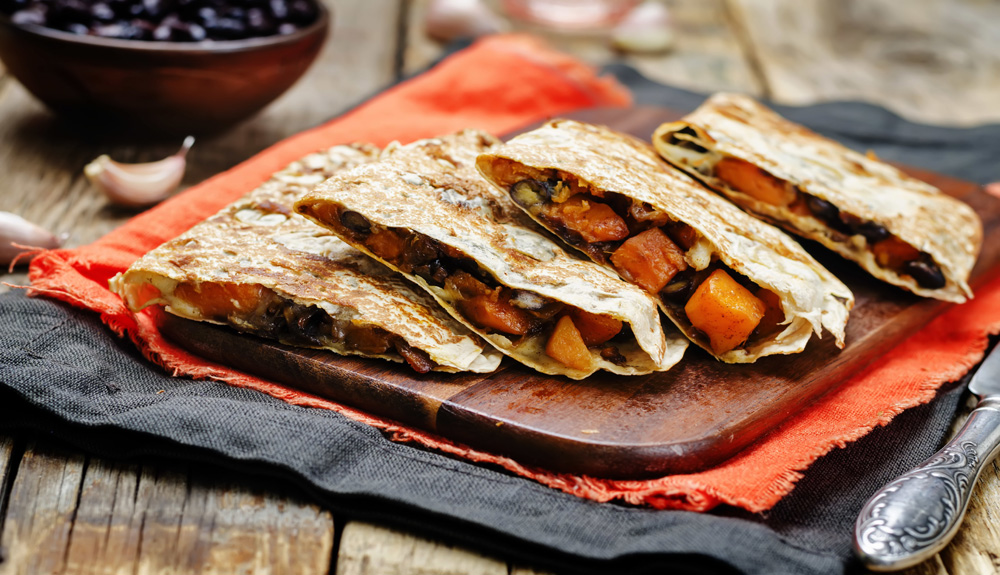 Ingredients:
1 medium sweet potato
2 tablespoons of butter
½ pound leftover pulled pork/brisket
1 teaspoon salt
2 teaspoons garlic powder
1 teaspoon onion powder
½ teaspoon chili powder
4-6 flour tortillas of choice
2.5 cups cheese of choice
Sour cream, salsa, or barbecue sauce for serving
Directions:
1. Poke holes in the sweet potatoes with a fork and microwave on high until soft and tender (around 10-12 minutes.)
2. Heat 1 tablespoon of butter in a skillet over medium high heat. Add in the pork or brisket, salt, garlic powder, onion powder, and chili powder. Heat until warm throughout and then set aside.
3. Once the potatoes have finished cooking, remove the skin and mash up the insides with a fork. Add a thin layer to one tortilla and then top it with a heaping load of pork and cheese of choice. Add another tortilla on top for a large quesadilla, or simply fold in half for a smaller one.
4. In the same skillet, add the remaining butter and heat until melted. Add your quesadilla and cook until golden brown, around 3-4 minutes. Flip it over and heat the other side until browned and cheese has melted. Repeat with remaining tortillas and filling.
5. Cut the quesadillas into wedges and serve with sour cream, salsa, and barbecue sauce for dipping.
2. Pulled Pork/Chicken Pizza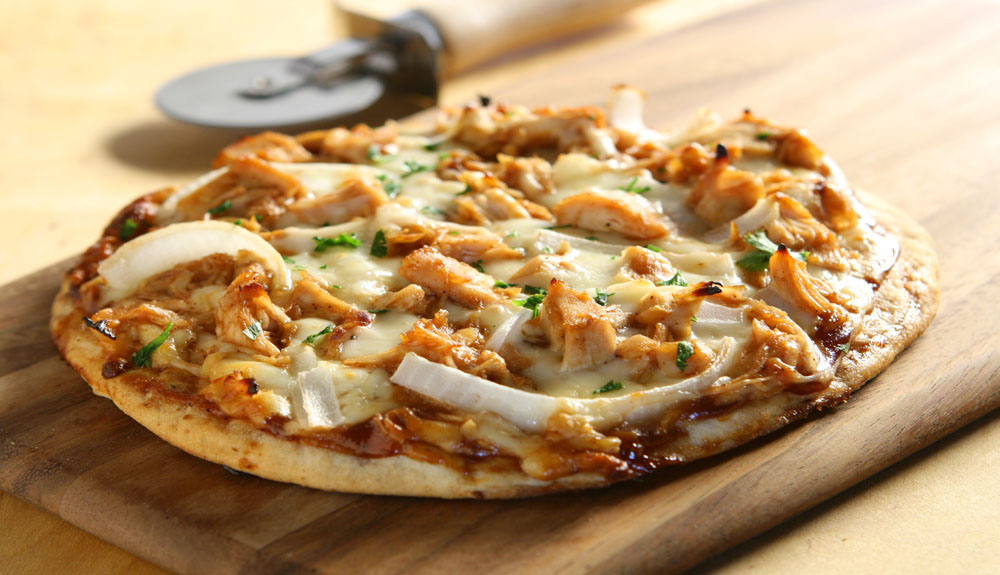 Make pizza with leftover pulled pork or chicken. Add pineapple to contrast the tang of purple onion and smokiness from the grill. If you don't like fruit on your pizza, opt for a sweet barbecue sauce to ramp up the flavor.
Ingredients:
1 14 ounce prebaked pizza crust
3+ tablespoons barbecue sauce of choice
1.5 cups shredded sharp cheddar cheese
1 cup leftover pulled pork or chicken
½ cup canned or fresh pineapple
¼ cup thinly sliced purple onion
1/8 cup thinly sliced green pepper
Salt and pepper to taste
Directions:
1. Preheat your oven to 425F. Place the pizza crust onto a greased baking sheet. Spread a thin layer of barbecue sauce across the top.
2. Next, top the barbecue sauce with half of the cheese. Distribute the pork, onions, pineapple, and green peppers evenly around the pizza.
3. Top with an extra layer of cheese and a swirl of barbecue sauce and salt and pepper to taste.
4. Place the pizza in the oven until cheese has melted and crust is crispy and brown, around 15-20 minutes.
5. Cut pizza into slices and enjoy.
3. Leftover Grilled Chicken Tacos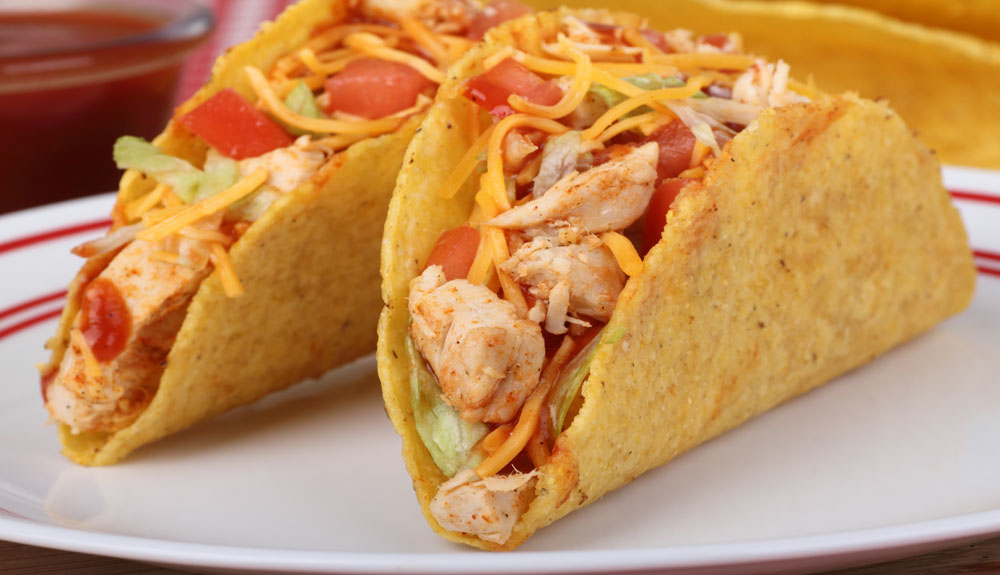 Ingredients:
1 pound leftover grilled chicken, cut into squares
1 tablespoon olive oil
1 teaspoon garlic powder
1 teaspoon chili powder
1 teaspoon pepper
½ teaspoon salt
1 medium white onion, chopped
2 avocados, diced
4-6 tortillas of choice
Cilantro, lime wedges, and sour cream for serving
Directions:
1. Heat up the oil in a skillet over medium heat. Add the cubed chicken, garlic powder, pepper, salt, and chili powder. Stir and then cover until heated through.
2. Meanwhile, arrange the tortillas out on a plate. Top with chopped onion and avocados.
3. Evenly distribute the chicken on the tortillas. Top with cilantro, lime wedges, and sour cream to serve.
4. Sausage and Potato Hash
Ingredients:
3 medium sweet potatoes or regular potatoes (tastes great with a mix of both, too!)
1 large purple onion
1 large red or green bell pepper
2 tablespoons olive oil
1 pound leftover sausage links
1 tablespoon parsley flakes
salt and pepper to taste
Directions:
1. Roughly dice the potatoes, onions, and peppers into ½ " cubes and set aside.
2. Heat up the olive oil in a large skillet over medium high heat. Add the potatoes and onions, stirring thoroughly to coat. Cook until the potatoes have softened and the onions are translucent, 8-10 minutes while stirring continually.
3. Add the diced bell pepper, salt, and pepper to the skillet. Continue cooking until the peppers are soft and potatoes have crisped.
4. Meanwhile, dice up your leftover sausage into similar sized cubes. Add the sausage to the pan and then cover, allowing the mixture to heat thoroughly for 5-10 minutes.
5. Remove the lid, stir, and top with parsley flakes. Add salt and pepper to taste if needed. Serve and enjoy.
5. Pulled Pork Nachos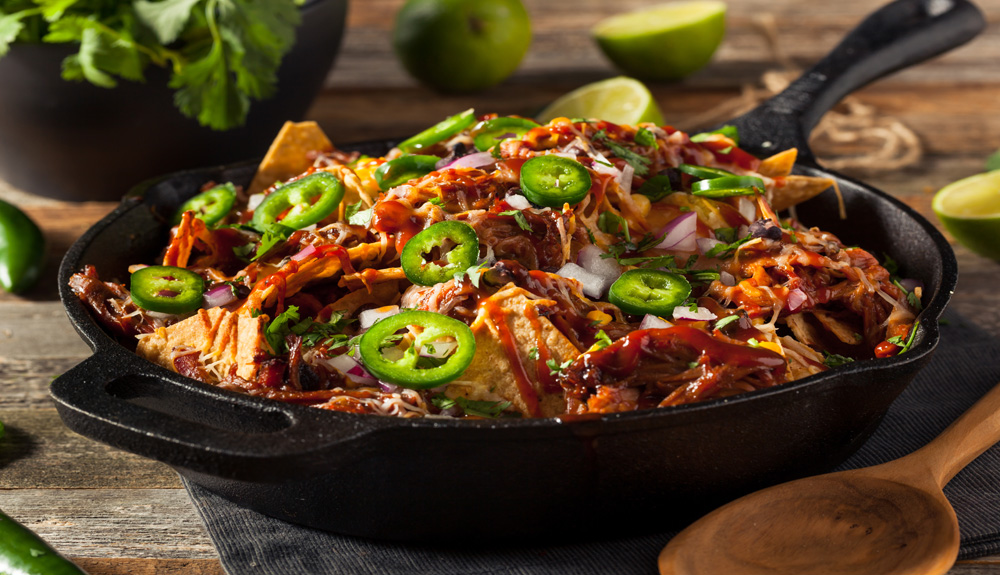 Ingredients:
1 large bag of tortilla chips
2 cups shredded pulled pork
½ cup diced purple onion
½ cup yellow kernel corn
½ cup black beans, rinsed and drained
1 tablespoon chopped cilantro
1 teaspoon salt
1 teaspoon pepper
1 cup taco blend cheese (or whatever you have on hand)
2 tablespoons barbecue sauce
Sour cream, jalapenos, and freshly diced tomatoes to serve
Directions:
1. Preheat your oven to 435F.
2. Meanwhile, arrange the tortilla chips in a single layer across a large baking sheet. Top evenly with the pulled pork, diced purple onion, kernel corn, black beans, and cilantro. Add salt and pepper to taste.
3. Cover the nachos with cheese until coated thoroughly. Drizzle the barbecue sauce across the top evenly, using more if desired.
4. Bake until the cheese has melted completely, 8-12 minutes. Top with sour cream, tomatoes, and jalapenos to serve.