Tuesday, March 19, 2018, is National Poultry Day. While the history of this holiday is unclear, there is no doubt that the best way to celebrate is to eat chicken on that day. Here are some favorite chicken recipes that you may want to try.

Chicken Parmesan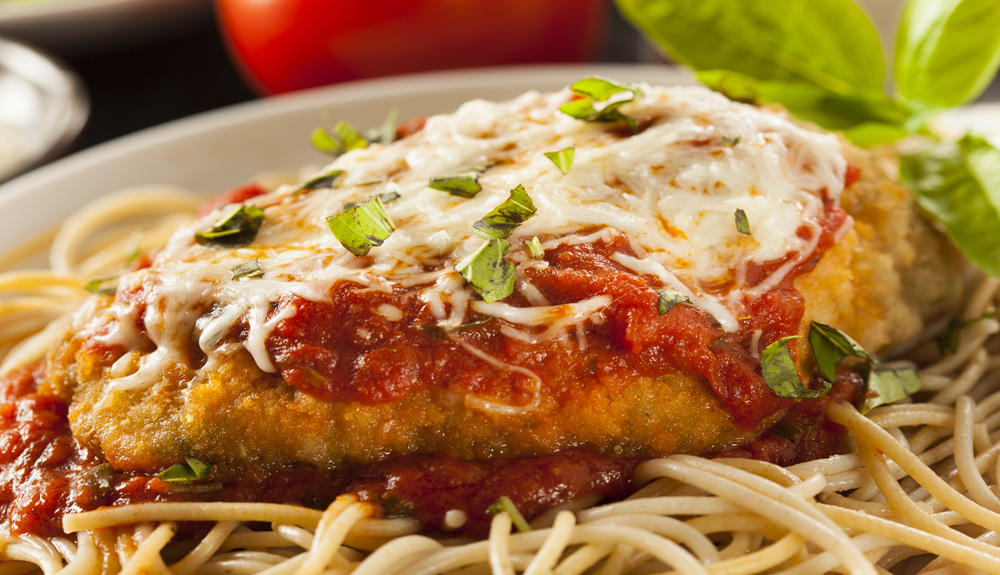 You may want to give the holiday an Italian flair by serving chicken parmesan for supper at your house. This easy recipe is perfect if there will only be two home for supper, but feel free to double or triple it to feed a crowd.
Ingredients
2 skinless boneless chicken breasts
1 egg
1/16 teaspoon fresh ground black pepper
1/16 teaspoon salt
1/2 cup panko bread crumbs
1/4 cup plus 2 tablespoons grated Parmesan cheese (divided)
1 tablespoon flour
1/2 cup plus 1 1/2 teaspoons extra-virgin olive oil (divided)
1/4 cup tomato sauce
1/4 cup grated provolone cheese
2 cups mozzarella cheese
2 tablespoons pesto
Instructions
1. Preheat oven to 450 degrees.
2. Beat egg in bowl and set aside.
3. Pound chicken breasts with mallet until 1/2 inch thick.
4. Season with pepper and salt.
5. In separate bowl combine 1/4 cup parmesan cheese and bread crumbs.
6. Sprinkle chicken breasts with flour being sure to cover both sides.
7. Dip chicken into egg.
8. Dip chicken into breadcrumb mixture.
9. Repeat for other chicken breast.
10. Let chicken rest 10 minutes.
11. Heat 1/2 cup olive oil in skillet.
12. Cook chicken breast in skillet for two minutes on each side.
13. Bake chicken in baking dish.
14. Top each breast with 1/3 cup tomato sauce.
15. Top each breast with equal amounts of provolone, mozzarella cheese and remaining Parmesan cheese.
16. Drizzle remaining olive oil over chicken breasts.
17. Bake for 20 minutes or until the internal temperature of each breast reaches 165 degrees.
Mexican Fried Chicken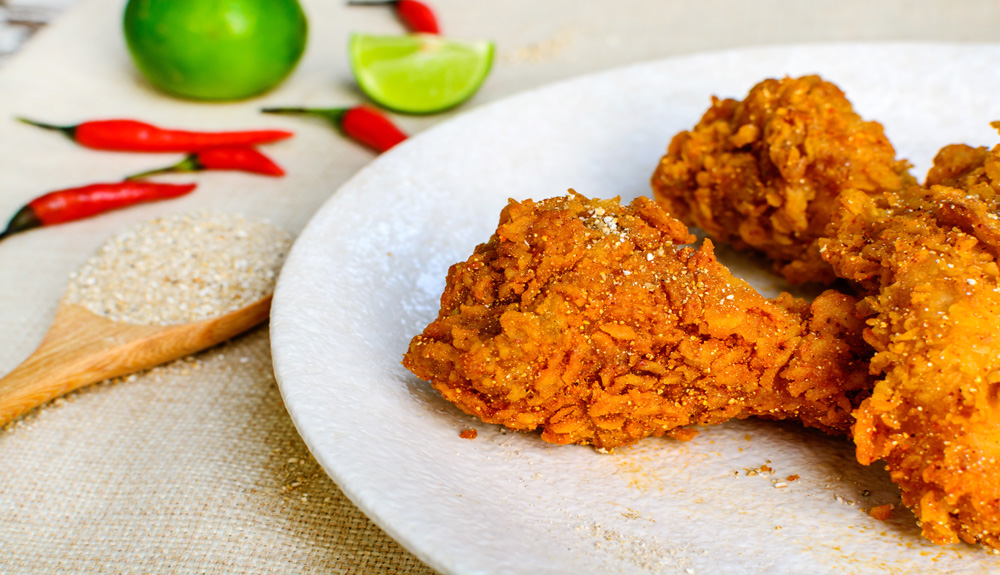 Easily make Mexican Fried Chicken for National Poultry Day.
Ingredients
1 whole chicken cut into pieces
1 tablespoon salt
1 /2 tablespoon pepper
2 tablespoons garlic powder
⅛ tablespoon ground coriander
⅛ tablespoon paprika
⅛ teaspoon ground cumin
3 cups all-purpose flour
1 1/2 cups cornstarch
1/2 cup buttermilk
1 egg
3 lemons
7 cups canola oil
1 egg
Instructions
1. Combine seasonings in a large bowl.
2. Combine cornstarch, flour, buttermilk and egg in another bowl.
3. Prepare the zest from two of the lemons and add it to the seasoning mixture. Reserve lemon juice.
4. Place chicken into seasoning mixture. Shake until chicken is well coated.
5. Let chicken sit 30 minutes.
6. Heat oil in large skillet.
7. Remove one piece of chicken and drop in flour mixture.
8. Place chicken in skillet.
9. Continue until all chicken is in skillet.
10. Fry chicken until golden brown turning frequently.
11. Once chicken is done, remove from skillet and drain on paper towels.
12. Combine reserved lemon juice, one lemon sliced and honey in a saucepan.
13. Bring lemon mixture to a low boil.
14. Place chicken on serving platter.
15. Cover with sauce and serve.
Slow Cooker Chicken and Dumplings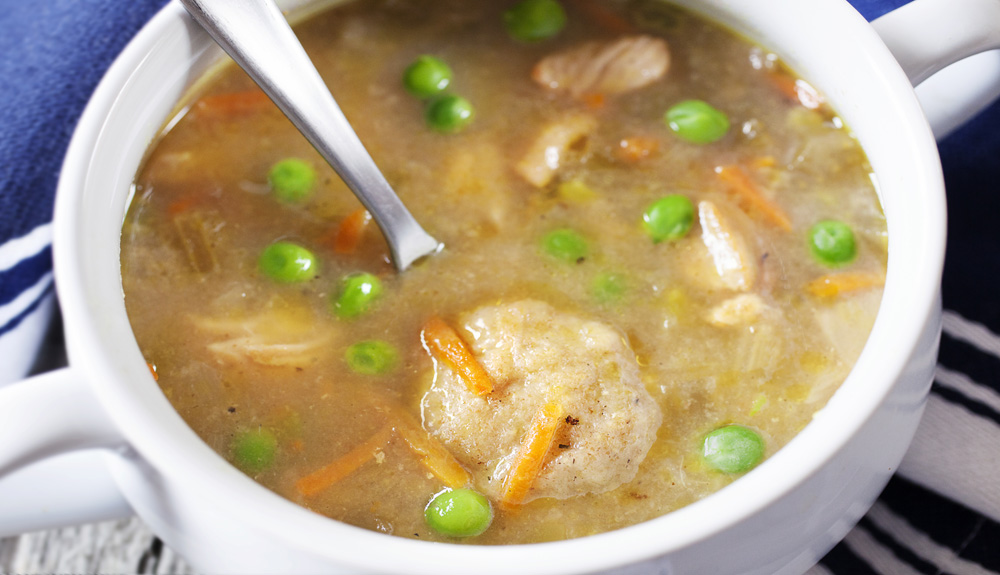 A slow cooker Chicken and Dumplings is a great way to celebrate the day. This recipe is incredibly easy and it will cook while you are at work.
Ingredients
3 chicken breasts
1 chicken bouillon cube
21 ounces cream of celery soup
21 ounces chicken broth
⅛ teaspoon pepper
6 flour tortillas
Instructions
1. Place chicken breasts in bottom of slow cooker.
2. Add soups and broths.
3. Cook for seven hours on low or five hours on high.
4. Tear each tortilla into eight pieces.
5. Place tortillas in mixture.
6. Cook on high for 30 minutes. Stir frequently ensuring the chicken breasts have broken into small pieces.
Serve in bowls and enjoy.
Sesame Chicken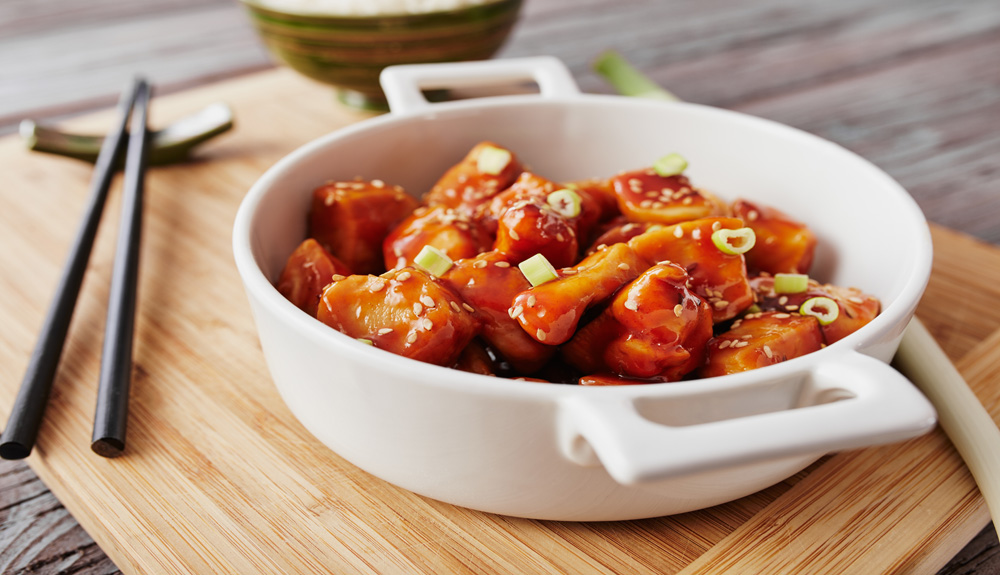 In order to celebrate National Poultry Day in style, then consider inviting seven friends to join you. This easy recipe is perfect for eight people without breaking the bank.
Ingredients
⅛ teaspoon sesame oil
1 tablespoon dry sherry
2 tablespoons soy sauce
2 tablespoons all-purpose flour
2 tablespoons cornstarch
2 tablespoons water
1/4 teaspoon baking powder
1/4 teaspoon baking soda
1 teaspoon canola oil
4 skinless, boneless chicken breast halves
1 quart vegetable oil for frying
1/2 cup water
1 cup chicken broth
1/4 cup distilled white vinegar
1 cup white sugar
1/4 cup cornstarch
2 tablespoons soy sauce
2 tablespoons sesame oil
1 teaspoon red chili paste
1 teaspoon garlic powder
2 tablespoons toasted sesame seeds
Instructions
1. Stir together first nine ingredients in a large bowl.
2. Cut chicken breasts into 1-inch cubes and add to mixture.
3. Let marinate 30 minutes.
4. Heat vegetable oil in deep skillet.
5. Remove chicken pieces and cook in skillet about four minutes.
6. Remove from skillet and let drain on paper towels.
7. Combine remaining ingredients except sesame seeds in large saucepan. Bring to a boil stirring frequently.
8. Place chicken on serving platter.
9. Cover chicken with sauce.
10. Garnish with sesame seeds.