SAT, 9/22, 9-3 pm "Life is Music, Music is Life," a local nonprofit organization, is having a garage sale to raise scholarship funds for passionate […]
12 total views, 4 today Multi-family yard sale including tools, kayak, furnishings, toys, Electronics, bicycles, golf clubs, golf balls, baseball equipment. 9/22-9/23
14 total views, 6 today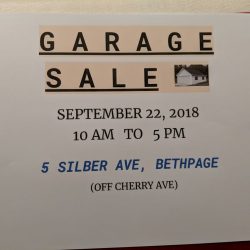 Downsizing household. Many items priced to sell. Come by and check it out for yourselves.
17 total views, 6 today
EAST ISLIP :YARD SALE SAT 9/22/18,8-2pm FUND RAISER FOR CROSSROADS CHURCH 127 COUNTRY VILLAGE LANE. RAIN OR SHINE. furniture, housewares, home decor, vintage, something for […]
4 total views, 0 today
EASTPORT: HUGE YARD SALE Sat 9/22, 8am-4pm. R/D: 447 Montauk Highway. Tools, Furniture, glassware. Something for everyone.Many items $1 or less. R/D: Sun 9/23
4 total views, 0 today
HUNTINGTON HUGE YARD SALE SAT 09/22/18 9-4PM, SUN NOON-4PM, 4 WOODLOT LA.(off West Neck Rd) FURNITURE, HOUSEWARES, TOOLS, BABY & PET ITEMS, GOLF, BIKE GEAR, […]
2 total views, 2 today
RIDGE: Yard Sale Sat 9/22 9am-5pm. Vintage, Antiques, Toys, Housewares, and Clothing. 45 Raynor Rd
4 total views, 0 today
SHIRLEY: Yard Sale. Sat. & Sun. 9/22, 9/23. 10am-4pm. Household items, Decorative items. Lots of Good Stuff., 25 Bayfair Drive, Shirley, 11967-4402.
4 total views, 0 today
STONY BROOK: HUGE SALE!! International Baptist Church, 1266 North Country Road. Fri, 9/28 & Sat 9/29, 9am-3pm. LOTS OF GOODIES, NO JUNK!
4 total views, 0 today