Huntington Choral Society Virtual Wine Tasting
December 5 @ 7:00 pm

-

7:30 pm

$20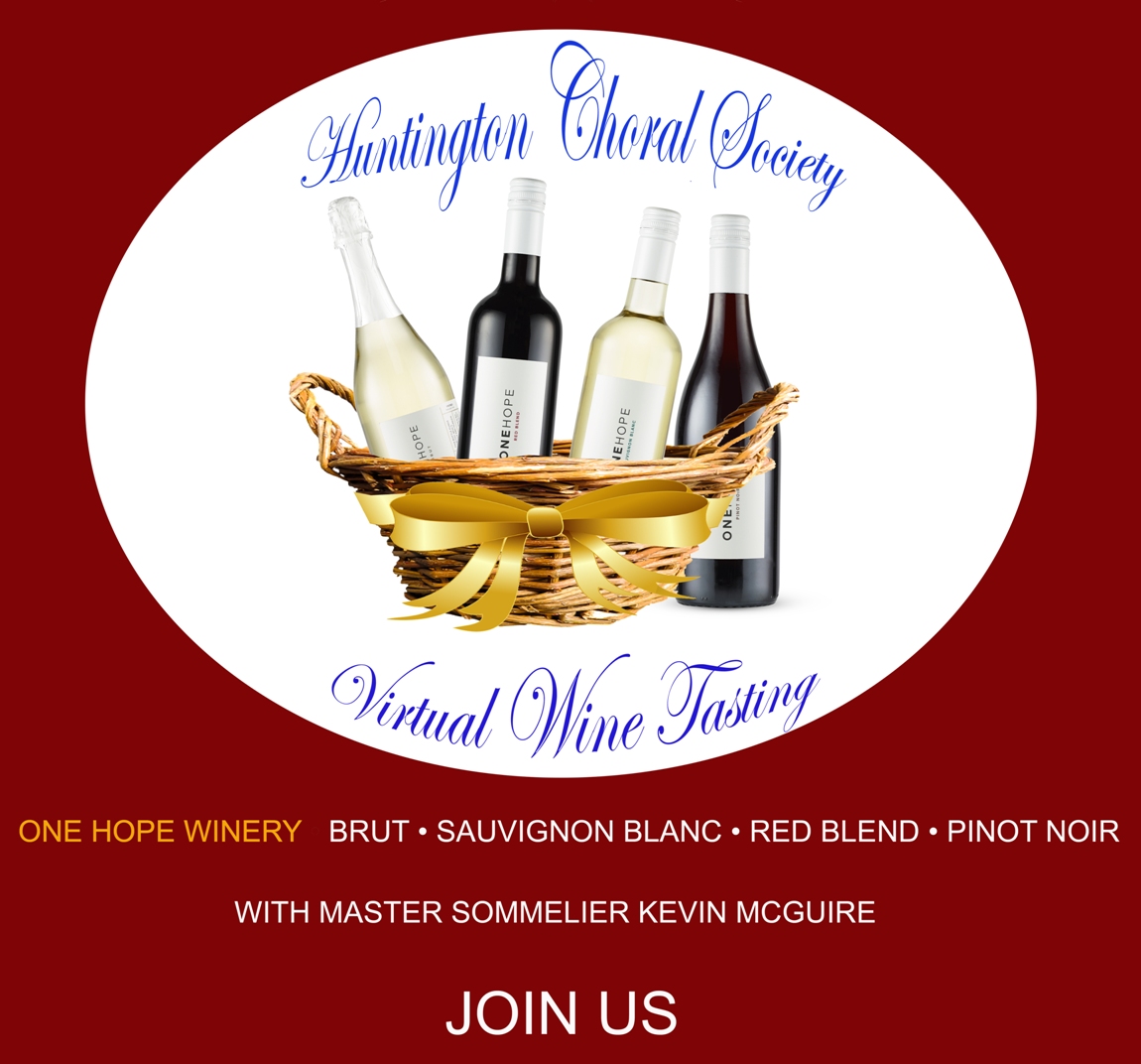 This live-streamed Tasting Party will feature Kevin McGuire, an internationally certified Master Sommelier, one of only 46 Masters of Wine in the United States (370 in the world). Kevin will guide us through four delicious wines in a fun, interactive session. You will learn what to look for, how to taste and enjoy wine. There are suggested food pairings to round out your evening.
Kerry Heneage of ONEHOPE Wines will join us to tell us more about ONEHOPE's award-winning wines, and how the company makes an impact by supporting causes around the world.
Finally, your event host is HCS's own Debbie Guastella, who will moderate the fun and field your questions for Kevin. Have your questions ready!
Prizes!* We'll be raffling off gift-baskets and other prizes throughout the evening. When you purchase an event ticket, the name of the purchaser will be entered into our raffle drawings. Multiple winners will be pulled during the live event.
*New York residents only.
Event deadline: To participate in the tasting you can purchase one, two, three or all four of these wines. Purchase wines by November 30 to insure delivery by December 5th.
For more information about the event and wine and to purchase tickets please visist our website at www.huntingtonchoralsociety.org.
Whether or not you participate in the tasting party, all of your wine purchases made through December 27 through this link will contribute much needed support to HCS.
Deadlines for Holiday Purchases
Saturday, Nov 21 for Thanksgiving delivery by 11/25
Sunday, Dec 15th for Hanukkah delivery by 12/22
Tuesday Dec. 17th for Christmas delivery by 12/24
Monday, Dec. 23rd for New Year's delivery by 12/31.
Related Events