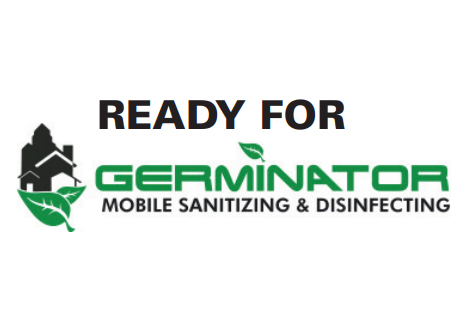 Present on mobile device or print by clicking "USE COUPON"

1.800.974.8920 www.thegerminator.com
Coupon Details
THE GERMINATOR IS YOUR SOLUTION
IDEAL FOR:
✔ HOMES
✔ BUSINESSES
✔ DAYCARE
✔ HEALTH CARE
✔ OFFICES
✔ SCHOOLS
✔ HOTELS
✔ COLLEGES
✔ UNIVERSITIES
THE SHIELD IS AN INVISIBLE MICROBIAL BARRIER APPLICATION
THAT PROVIDES EXTENDED PROTECTION:
IT CREATES AN UNINHABITABLE ENVIRONMENT FOR
GERMS, BACTERIA, VIRUSES AND MORE.
DOESN'T CONTAIN HARMFUL CHEMICALS!
Residential
Germinator Mobile Sanitizing is an ideal way to maintain a healthy home that looks, feels, and smells clean.
Our residential sanitizing services can help solve a variety of household problems.
Shield
Microbial Barrier
Our state of the art microbial barrier application allows your items to remain protected from harmful germs
for an extended period of time.
Genesis
Disinfecting and Deodorizing Treatment
Genesis harnesses the natural power of HOCl, which is a naturally occurring and very powerful oxidant found
in the human body. Proven in various university and clinical studies, HOCI has been highly effective in treating
areas prone to infectious diseases and bad odors. It is safe to use regularly around humans and pets.
Commercial
Did you know that your commercial property is constantly exposed to germs? There is no need to worry
because Germinator Mobile Sanitizing can help you maintain a safe and healthy environment for your
employees and customers.
CALL NOW FOR 10% DISCOUNT
1.800.974.8920