If you don't have a yard or space to easily store things you don't use often what can you do? Your home has to meet your needs – place to sleep, relax and dine – but it may not be able to meet all of our needs.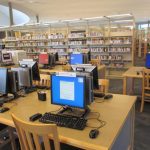 One of your options is to get outside. If your a light computer user get to the library, they often have computers, printers and of course free web service. You may not need a computer desk, a printer, a monitor and of course a computer. The libraries computers are typically up to date and serviced by professional IT people. You will also spare on the electricity to run all these appliances. Another option would be to use your work computer to get your things done. As long as it doesn't interfere with your job or you have permission to use it around you work hours it shouldn't be a problem.
Out of space to store things? If you don't have an attic or garage or basement you are forced to just own what you use most of the time and find other ways to enjoy your occasional hobbies and activities. If you can use Mom's house, or uncle Joe's, or get in touch with a community center that can have your things (i.e. books) available to you and others while they store them.